Beadwork
---
Contest Pieces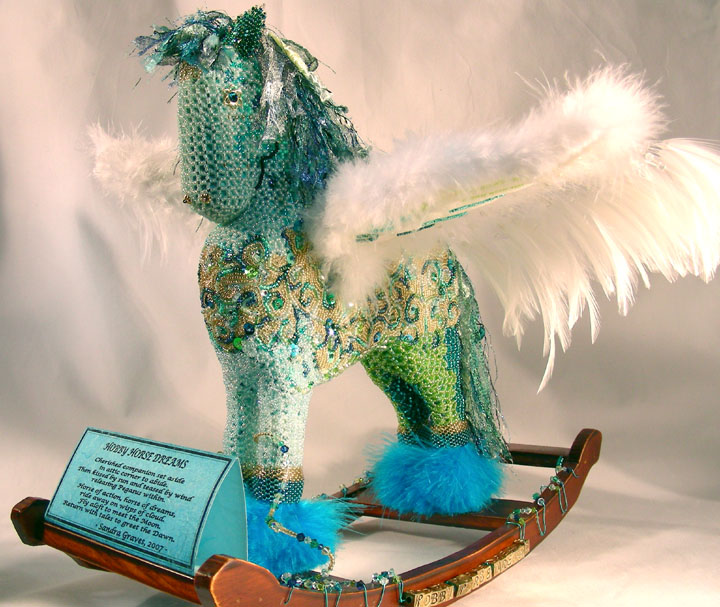 "Hobby Horse Dreams"
"Horse" was a labor of love. I conceived of a flying hobby horse for the Beads of Whimsy contest. I downloaded
a true hobby horse pattern, downsized it, and made it in wood. Then I covered it in padding and fabric and started
beading. Originally I had only intended to bead parts of the fabric, but he wanted to be fully beaded and who can
fight with something this cute? His wings are embellished with Swarovski crystals and his body uses seed beads and
crystals. His mane and tail are a variety of yarns. My husband cut the runners for me. I tried to etch the poem I
composed, but the Goddess of Etching just wasn't with me for this project. So I printed it out on sturdy paper
instead. He stands approx 10 inches tall with a wingspan of more than a foot and took more than 150 hours to
bead. His poem says:
Hobby Horse Dreams
Cherished companion set aside
in attic corner to abide.
Then kissed by sun and teased by wind
releasing Pegasus within.

Horse of action, horse of dreams,
ride away on wisps of cloud.
Fly aloft to meet the Moon.
Return with tales to greet the Dawn.
---
"Magic Wand"
My local bead society held a magic wand contest. It was 1999 in the Spring when I got the idea into
my head to make a wand that lighted. I used a golf whiffle ball for the flower head and wired the translucent beads
onto the golf ball. Then I cut a hole into the ball for the insertion of a tube and a small hand-held flashlight.
The tubes were filled with counterweights so that the entire wand is actually quite heavy. The flower
stem turns so that the light can turn on and off, and it also unscrews towards the bottom of the stem
so that new batteries can be inserted. The wand won the contest.
---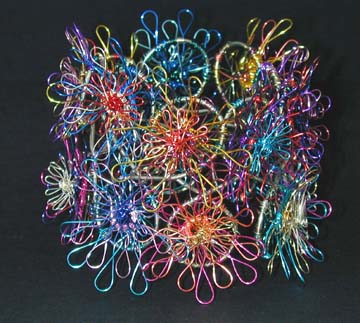 "Le Peloton"
Although this was not a beadwork contest, rather a wire working contest, it was still a fun piece to work on. Onto a
framework of heavy-gauge wire, triple-layered flowers of bright and sprightly colors were added. The name was
chosen because of my love for professional bicycle racing and the colorful appearance of the peloton in the grand
tours such as the Giro de Italia and Le Tour de France. Although I did not win the contest, I did get an honorable
mention for this piece. Not too shabby since I had never done a wire worked piece before or since.
---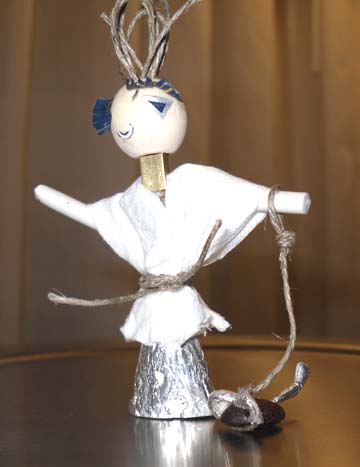 "Mystery Bag Contest"
Metal Clay World Conference, July 2009
Although I originally conceived of this piece under the working name of "walking the dog", the
Japanese judges from Aida called it "Samurai Walking Mouse" and they loved it. (Apparently there
is a story about a samurai who walked his dog. They interpreted my little "dog" as a mouse.) We were
given a length of hemp twine, a coffee bean, a lollipop stick, a square brass bead and a
wooden bead, two squares of toilet paper and 7 grams of Art Clay Silver. We were only
allowed to use items that were available to each of the 50 contestants (several people were
disqualified because they used items that were extra). I cut my lollipop stick into two pieces for
the body and the arms, the face (eyes, mouth and eyelashes) were cut from the ACS package
and glued on (glue was an allowed item). The skirt, ears and tail were ACS. Most of this
work was done in my hotel room since I don't enjoy working on personal projects in front
of others. I was thrilled when I won a $50 gift certificate to get some sunstones and cashed it
in as quickly as possible.